Shopping Cart
Your Cart is Empty
There was an error with PayPal
Click here to try again
Thank you for your business!
You should be receiving an order confirmation from Paypal shortly.
Exit Shopping Cart
Everybody loves Waymon submit your contest for the prize.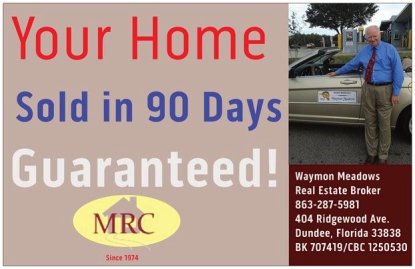 Poinciana breaking News: Waymon Meadows supplied carpet for the first homes built in Poinciana.  In addition, he has built over 100 homes at a time, bought and sold hundreds of lots.  As an octogenarian he LISTS AND SELLS homes for clients; charges less commission and guarantees to sell your home in 90 days.  When you want the very best Real Estate Broker in Poinciana call Waymon.  863 287 5981 
 Facebook ad: You will love this beautiful home, in Lake Ashton, just came available. Tag someone you want as your neighbor or buy it yourself! 
You will love this magnificent home in beautiful Lake Ashton, Winter Haven, Florida. It features: Two bedrooms, two baths, cathedral ceiling & ten foot ceiling elsewhere, ceramic tile in kitchen, breakfast area, bathrooms, and foyer, pavers on driveway and walk, roofed screened veranda, two car garage, Orkin subterranean termite & drywood continuous protection, epoxy & flake garage floor, secondary irrigation water meter, a ten foot by fourteen foot Pavo patio, complete landscaping, with white stone in place of wood mulch, a garage screen door, a Dual UV light system to improve the air conditioning air quality, and prevent mold and mildew, Stark Energy thermal attic barrier, five custom solar shades, one cellular shade, ten foot by thirty foot veranda, two car garage with two storage racks, gutters and downspout around the house, a fifty-two inch ceiling fan in the living room, and six other ceiling fans throughout the house, upgrade carpet, ceramic tile flooring in kitchen, breakfast  nook, and baths, forty-two inch high kitchen wall cabinets, crown molding around the kitchen and bath cabinets, granite countertops in the kitchen, comfort handicap toilets in bathrooms, three TV outlets, one brass electric floor outlet in the living room, a GFI outlet outside by the patio, a  three foot wide garage door to laundry, a white soaker tub, a Whirlpool twenty-five cubit foot side-by-side refrigerator, pavers in parking area, walkway, and covered entry.
Owners paid $ 14,000.00 for upgrades when purchased.  They spent $ 24,000.00 for Improvements.  It is a Certified green house.  I was so impressed with its beauty and features I made a date with my wife to come this perfect home.  I could not find even a weed in the lush Saint Augustine grass.  It was like walking on a sponge. When you come see this immaculate home you will want to buy it. Call me at 863-287-5981 for an appointment. Do not delay or you will miss the best buy in Lake Ashton. 
The Reeser's are not eager to sell their home to just anyone.  They want buyers who appreciate how much love and care has gone into their abode. They have taken care of every minute detail.  I challenge you to find one thing wrong with Jerry and Nancy's home.   It is the best bargain in Winter Haven.  I bet the first prospect who looks at this unique home will buy it.  For all this, the price is only $ 239,900.00. The information is believed to be true but not guaranteed. Call me at 863-287-5981 for an appointment. 
P.S. Click
www.gomrc.net
 to see the aerial video and photographs will be available soon.   
1.      Questions you should ask before listing your home
2.      Are you a Realtor/Agent/ Broker?
3.      Can I cancel my listing?
4.      Can I see the documents up-front?
5.      Do you participate in Caravans?
6.      Do you believe in 
email
 blast? 
7.      Do you have a guarantee/penalty?
8.      Do you like his/her personality?
10.  Do you provide references?
11.  Do you use direct phone calling?
12.  Do you use MLS
13.  How do you use signs?
14.  How long have you been in business?
15.  How long will it take to sell my property? 
16.  How many showings before the sale?
17.  Is he/she a straight shooter?
18.  What fees do you charge?
19.  What is your listing price?
20.  What is your marketing plan?
22.  What price will my house sell for?
23.  What questions have I not ask you?
24.  When can I call you?
26.  In one word why should I hire you?
/